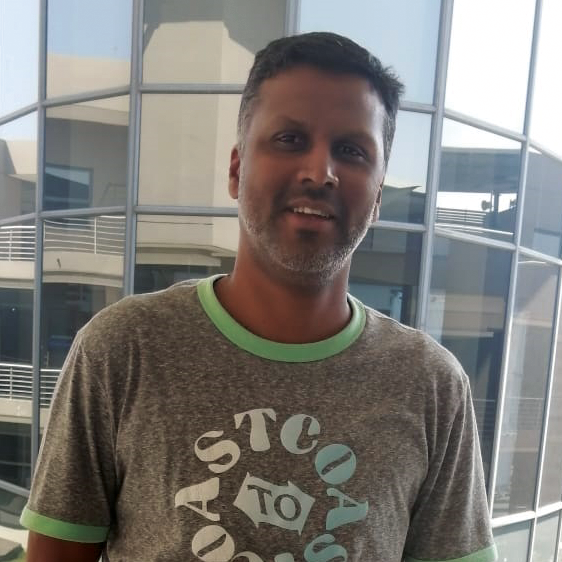 Byron Moorgas is a digital solutions entrepreneur.  With Always Innovation Solutions (AIS) he offered big data solutions, digital marketing and market research intelligence to a diverse list of clients.  Mr Moorgas worked as regional sales manager for TomTom assisting the global navigation and consumer electronics company develop its African business footprint.
Working in the Yellow Pages industry showed Byron the need for a total and truly digital solution in the B2B sector.  The founding of Luxador was the natural conclusion of the vision his idea of marrying a digital tool and e-commerce solution to grow a sector that is seen as the engine of growth for Africa and across the globe.
Hennie Volschenk is a software entrepreneur with a special interest in developing digital solutions in the Fintech sector.
Hennie was the co-founder and lead software developer on Celbux, an early mobile wallet solution.  Developed as a payment solution aimed at tertiary students receiving government financial aid.  Celbux has grown beyond its initial goal and now processes US$ 500 million worth of transactions across the platform.
An entrepreneur, with a long successful career in business development, Peter Willemsen brings a wealth of business experience to the management team at Luxador.  
A partner in in2Group, a company involved in the development of IT hardware, connectivity and platform development, he brings a history of success in the consumer service industry as well as strong business development skills to our management team.  Overall, his experience in Operations and Sales Management, his understanding of the international business environment and his strong entrepreneurial skills will help Luxador grow internationally. 
Bernold Kemperink established Brunel Energy in 1995 and grew it into a multinational company with offices across Europe, and in the US and Southeast Asia.  Over 30 years he has established and built businesses.
Today he is responsible for investment and development for Oost NL, a business development agency based in the east of the Netherlands.  He has set up innovation clusters and set up global repair and return logistic systems for European e-commerce platforms.
Chairman of the advisory board
When Lourens Botha founded McCarthy Call-a-Car in 1997, he was at the forefront of South African business embracing the promise of the internet.  Not only did he see the opportunity offered by digital sales, but he understood the need to integrate traditional brick and mortar with an online trading model.
Mr Botha believes that the African e-commerce sector will continue to grow as more people access the internet as infrastructure improves.  At McCarthy, Mr Botha instilled a customer service doctrine that has influenced our view of customer relationships: customer satisfaction must never be compromised.
Karin Adri Liebenberg's career has been spent developing expertise in economic policy, sector analysis, venture capital funding, project management, incentive administration as well as investment and export promotion.
She now brings her 20 years of experience as an economist in the development finance space with the National Intelligence Agency, the dti, and now with the Tshwane Economic Development Agency (TEDA) to Luxador as an advisor.
Ms Liebenberg has studied development paths of multiple South African sectors and was a leader in the development of the COEGA IDZ and her research  and economic analysis has helped guide South African government economic policy.
Dr Tebogo Umanah has spent her career developing and managing talent and successfully building teams in a variety of research and policy organizations.
She designed and implemented strategy for Centre for Policy Studies, the Centre for the Study of Violence and Reconciliation before moving into a role as Policy Researcher for the National Electricity Regulator and then the Tourism Business Council of SA.
Through her career she has developed a leadership style built on business acumen and critical thinking skills.  Dr Umanah holds Honours and a Master's degree in Social Anthropology and is completing a Masters in Management at Wits University.